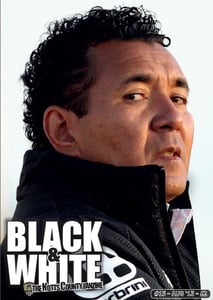 £

2.00
This is it. Our biggest yet by a country mile. Usually spread out across 32 pages, our 15th issue is currently at 60 pages with more being added by the time we go to print. Here's a list of what we have in the issue so far - still £2 and in full colour too!
PLEASE NOTE ALL ORDERS WILL BE DISPATCHED AHEAD OF THE AUGUST 8th RELEASE DATE.
A huge interview with Notts owner Ray Trew - 80 minutes worth of talk condensed into as many pages as it needs!
The pre-season friendlies of the Summer get reported on.
Dane Vincent follows up his Notts County movies with a series of TV shows.
All 281 Summer recruits are analysed by the people who've watched them prior to joining Notts.
Striking legend Mark Stallard spoke with Paul Smith in our second interview of the issue.
Piran Lynn-Smith dives into his attic and talks about some early-90s Notts trading cards.
It doesn't seem that long ago that 'Doing a Tranmere' felt like a real concern - so Rovers fan Sam Robinson tells us what it's really like.
Dan Hutchinson has had his enthusiasm restored this Summer after a flat end to last season.
Time to put last season to bed - but not before the results of the 2014/15 end of year survey.
The "esteemed" writers of Black & White Fanzine put their necks on the line and offer their predictions for Notts this season.
The return of reserve team football to Meadow Lane is discussed by Nigel Nattrass.
Club icon Brian Stubbs chats with Dave Fells to discuss his days as a Notts player.
Lewis Jackson looks at the club's use of social media over the Summer.
Paul Smith has another interview, this time with 2009/10's League Two winning skipper John Thompson.
Richard Ogando continues he's look at football hooligans.
There are some typically bad, but some good moments in the basement division recalled by Ian Marsden.
Notts County Ladies' FA Cup Final experience in words and pictures.
Groundhopping Welsh boy Matt Harrison has a few words to say about Morecambe ahead of our trip there at the end of August.
Nigel Nattrass has a look at Ricardo Moniz and how he appears to be settling in.
Gabriel Sutton from The Football Lab dissects all 24 League Two clubs in a fantastic, insightful preview of the season ahead.
Also there'll be the Meadow Lane Top 3, articles from Dane Vincent, Adam Taylor, Rob Daviesand more than likely a few others yet!